Episodes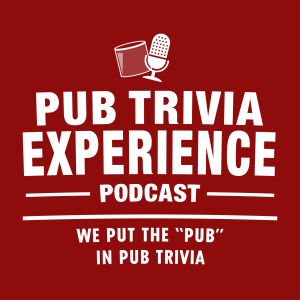 Wednesday Apr 05, 2023
Wednesday Apr 05, 2023
Welcome back to the Pub! For this episode, long-time listener, first-time guest Alan Kreisel decided he was ready to take on the Hot Seat. Will he conquer it or will it get the best of him? Either way, beer will be consumed and good times will be had!
Are you enjoying the show?
www.patreon.com/ptebb

Discord: www.ptebb.com/discord
Merch: www.ptebb.com
Facebook: The Lounge: Fans of Pub Trivia Experience & Boozy Bracketology
Twitter: @PubTriviaPod
Instagram: Pub Trivia Experience
PubTriviaExperience@gmail.com
Don't forget – Leave us a 5 Star Rating and write us a review
Enjoy The Show!

And if you like the Pub Trivia Experience, be sure to check out our sister podcast, Boozy Bracketology!