Episodes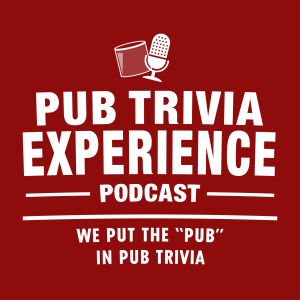 Thursday Nov 03, 2022
Thursday Nov 03, 2022
Well the Hot Seat tournament is officially OVER and we are here with another fun episode where the stakes are a little lower.  It's Chris hosting this game between our Patreon subscriber Nate, Lauren from the Beer'd Al Podcast, and Russ from the Infectious Groove Podcast/Youtube Channel.  Who will win in this modified Hot Seat game?  Only one way to find out...
Are you enjoying the show?
Discord: www.ptebb.com/discord
Merch: www.ptebb.com
Facebook: The Lounge: Fans of Pub Trivia Experience & Boozy Bracketology
Twitter: @PubTriviaPod
Instagram: Pub Trivia Experience
PubTriviaExperience@gmail.com\
Don't forget – Leave us a 5 Star Rating and write us a review
Enjoy The Show!