Episodes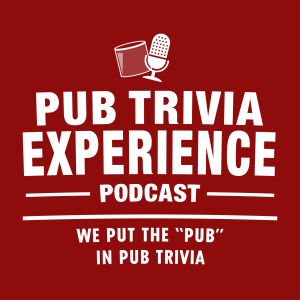 Wednesday Nov 23, 2022
Wednesday Nov 23, 2022
Come join us at the Pub for some MCU trivia! Carmela from Trivial Warfare and Fourplay joins up with Tim to take on Chris and Mike in an incredibly challenging game hosted by Bryan Nash. If you think you know the MCU, you ain't heard nothing yet. It's Team Sober vs Team Not-So-Sober in a back-and-forth game with some really big laughs, and not just because Chris is enjoying himself some Chicken Cock bourbon (though a little because of that too). You don't want to miss this one!

Are you enjoying the show?
www.patreon.com/ptebb

Discord: www.ptebb.com/discord
Merch: www.ptebb.com
Facebook: The Lounge: Fans of Pub Trivia Experience & Boozy Bracketology
Twitter: @PubTriviaPod
Instagram: Pub Trivia Experience
PubTriviaExperience@gmail.com
Don't forget – Leave us a 5 Star Rating and write us a review
Enjoy The Show!