Episodes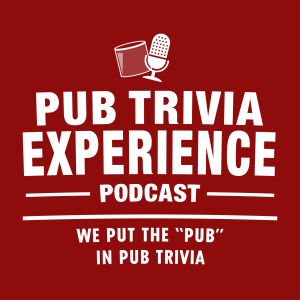 Wednesday Feb 01, 2023
Wednesday Feb 01, 2023
Welcome back to the Pub!  Chris is back hosting this 9 round game of recent pop culture craziness!  3 contestants will go 9 rounds in the categories of Movies, TV, Music, Sports, and Current Events... It's Leah vs Sarah vs Kendra (www.crushgasmpodcast.com) in an awesome showdown full of FUN trivia and some genuine laughs.
Are you enjoying the show?
Discord: www.ptebb.com/discord
Merch: www.ptebb.com
Facebook: The Lounge: Fans of Pub Trivia Experience & Boozy Bracketology
Twitter: @PubTriviaPod
Instagram: Pub Trivia Experience
Don't forget – Leave us a 5 Star Rating and write us a review
Enjoy The Show!