Episodes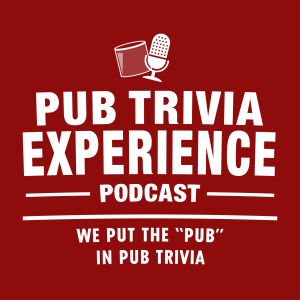 Wednesday May 17, 2023
Wednesday May 17, 2023
Yeah baby! If you remember how awesome movies were in the 90s, this episode of the Pub Trivia Experience is for you. Natalie calls in all the way from Down Under with a fun batch of 90s movie trivia questions in a 2v2 hot seat style game that pits couple vs. couple, as Leah and Chris take on Nikki and Mike. Lots of laughs and a little bit of learning make this episode a sheer delight. You can't miss this one! As if!
Want fun trivia to support a wonderful small business owner? Head on over to www.patreon.com/liquidkourage and take part in the World Trivia Federation!
Be sure to check out the new show in the PTEBB family, Frenemy Trivia, premiering June 2 everywhere you get podcasts!
Are you enjoying the show?
www.patreon.com/ptebb
Connect with us on Discord, Facebook, Twitter, Instagram, etc... at www.ptebb.com
Email us at PubTriviaExperience@gmail.com
Don't forget – Leave us a 5 Star Rating and write us a review
Enjoy The Show!