Episodes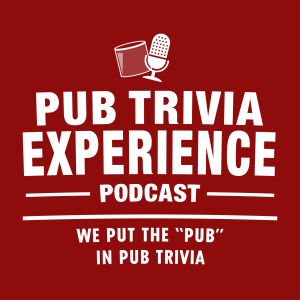 Wednesday Jul 05, 2023
Wednesday Jul 05, 2023
Welcome back to the Pub! For this episode, we welcome back Mike on the hot seat to demonstrate his music knowledge, or frequently lack thereof. Chris is hosting this quick, fun episode filled with laughter, a few major whiffs, and more than a few random pulls. Straight to Ale's Monkeynaut IPA and, alas, Corona are the beers keeping them refreshed on the journey. Tune in! 
Want fun trivia to support a wonderful small business owner? Head on over to www.patreon.com/liquidkourage and take part in the World Trivia Federation!

Be sure to check out the new show in the PTEBB family, Frenemy Trivia, premiering June 2 everywhere you get podcasts!

Are you enjoying the show?
www.patreon.com/ptebb

Connect with us on Discord, Facebook, Twitter, Instagram, etc... at www.ptebb.com

Email us at PubTriviaExperience@gmail.com

Don't forget – Leave us a 5 Star Rating and write us a review

Enjoy The Show!