Episodes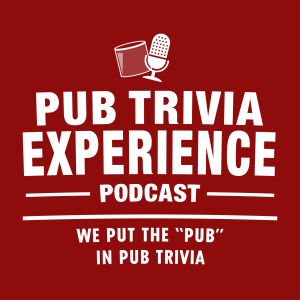 Wednesday Aug 09, 2023
Wednesday Aug 09, 2023
Welcome back to the Pub! This is the second half of our two-parter hosted by Brittany as a variation of the trivia game she hosts every week at the Critical Grind. Another fun-filled episode in which we redeem ourselves with 3-2-1's not involving Alfred Hitchcock, prove how little we know about plants, and collapse into hysterics when Chris's flavor text from Part 1 comes back to haunt him. Tune in and see how it all ends!
Want fun trivia to support a wonderful small business owner? Head on over to www.patreon.com/liquidkourage and take part in the World Trivia Federation!

Be sure to check out the new show in the PTEBB family, Frenemy Trivia, premiering June 2 everywhere you get podcasts!

Are you enjoying the show?
www.patreon.com/ptebb

Connect with us on Discord, Facebook, Twitter, Instagram, etc... at www.ptebb.com

Email us at PubTriviaExperience@gmail.com

Don't forget – Leave us a 5 Star Rating and write us a review

Enjoy The Show!